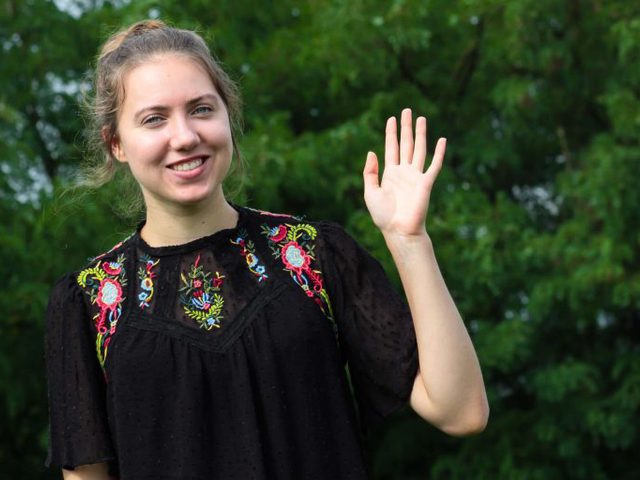 Interview with Juliane Kühl
We can now call it a tradition that every other year we have one volunteer from Germany. Our volunteer, who will be helping our pastors and communities, arrived from the harbour of Kiel. To get to know her more read the following interview!
"
Could you tell us where about in Germany do you live?
I came from the Northern part of the country, 30 minutes away from Kiel in a town clled Lütjenburg. I just graduated from high school this year.
Is there anything unique about your hometown?
Oh, I don't really think so...
Then I will ask it in an other way: what do you like about Lütjenburg?
The fact that there aren't a lot of people - it is not a village, neither it is a big city. You can buy everything you need, but if you want to go to a bigger city it is not that far away. I really love the surrounding woods, where I often go to walk my dog, Lina, or even cycle there.

Did you have a favourite subject at school?
Our education was really theoratical, the teachers used to do an monologe, not leaving any opportunity to practice. I didn't really enjoy this method! But if I really have to pick one subject that would be History.
Which topics in history did you enjoy the most?
The World War II.
You held a seminar on balett at our weekend-away. Where does your passion towards balett come from?
I have been doing it for quite a long time now, and it can be really hard sometimes. Most people think that dancing is an easy thing, which is obviously not true. If I do it for like 2 hours, I am totally exhausted and all I want to do is eat and sleep, but it is still captivating. It is not a really popular type of sport, that is why it is still extraordinary.
Don't you miss having classes?
A little bit, but I would be keen to try the Hungarian folk dance!
What did you want to be when you were a child?
First I wanted to work at a hotel, then was interested in pharmacology, but after having classes in the laboratory it changed my view.
Which part of pharmacology attracted you?
Chemistry- I still like it, but it was still hard to study. It would be too difficult to say why I liked it.
Have you planned a trip like this when you were in high school?
I have been playing with the idea of being a volunteer for quite a lot, but first just in our country. A year ago I just felt like: why should I not go to abroaf? Probably my sisters played a big role in it, because they have already been in this situation. I think it is a good thing to do a gap year abroad after graduating, so that you can find yourself. I wouldn't say it way a spontaneous idea but wasn't really planned either.
What do your sisters do?
One is studying biology, the other one is studying to be a mechanic engineer.
What challenges were you expecting before you came?
I was afraid of being homesick, but hasn't felt it yet; it is amazing to be here. I will visit my parent at Christmas, but will come back for New Year's Eve, to see how you celebrate it here.

It has been only a few weeks since you arrived to Debrecen,Hungary. What is your first impression?
I find the people really friendly, both young and old ones. One of my neighbour, who only speaks Hungarian, always greets me; she showed me where to put the litter and how to use the elevator - and I understood. The language is quite a something. When we were at the conference, they packed us a lunch for 3 hours which would have been enough for 2 days!!! I have heard that lunch is a big thing for you- although it is the same in Germany, and the courses are the same it is still a bigger thing here.
What do you like to eat at home?
I usually have cereal with milk for breakfast; for lunch, it depends how much time I have. If I have a bit more, I like to cook, but I am very fond of baking; I just love cakes. As for dinner, I usually have something light, for example salad or something like this. I am a vegeterian by the way, because I don't like how the treat animals nowadays. It is fairly easy in Germany, where there are lots of options for substitute, which is hard to find here. I would definitely like to try the Hungarian cuisine, at the same time still being vegeterian. I don't really know if this will be manageable fo the whole year. But one option is 'lángos', though I haven't tried it, I know it is vegetarian.
But it does contain a lot of fat! Quite heavy stuff! Going on: What is your speciality when it come to baking?
I really like to bake brownie; or creamy chocholate cake with fruits- but I am not fond of decoration, I rather just eat what I bake!
What is your opinion about the Unversity Church?
Everybody is reaaly nice and welcoming, right on the first week I got invited for dinner.(not a date! :)). I really enjoy how the young people are here, I love to be here.
Tell us a little bit about your journey with God?
I am Lutheran, but at home in Germany I did not go to church or pray regularly. I sometimes sang in the church choir and I always went with the children to the nativity play. I like gospel choirs, but I do not have a favourite one- for me the biggest happiness is to sing with a lot of people. I think, I still haven't found God's pathn but maybe it will be different in a year.
Did you attend youth club there?
Yes, but I wasn't often, once every month or every other month. Our congregations is fairly small, and on a Sunday service there are mainly elder people there. But here, I can feel that energetic vibe!
What does Christianity mean to you?
At the moment, it plays a little role in my life, but obviously positive- when I pray, it always fills me with a great feeling.

Do you have other hobbies besides ballet?
I love to be surrounded by my friends, go to parties, dance - in Germany I did ballroom-dancing, then I played the piano...
Is it possible we will see in th band inthe near future?
Oh, I am not that good in it, I just do it because it fills me with great joy whenever I sit down by the piano.
What music do you prefer?
Everything, except metal! I like the band called The Weekndm, Shawn Mendes and the Imagine Dragons, as for german mmsic... well, I like it less then the others. Those songs, what they play in the radio are quite far from me... I always think: where does that come from???
What do you still have on yout bucket list?
I would like to find what my area of profession is mine, then find a job I like. Get married, settle somewhere whether it is a city or the suburb I do not know. I don't havve exact plans, I would simply like to live my life - and I hope, everything will come together.
Thank you for the chat. May God bless you in your vocation and in your life."
Interview by Attila Dezső
Szólj hozzá