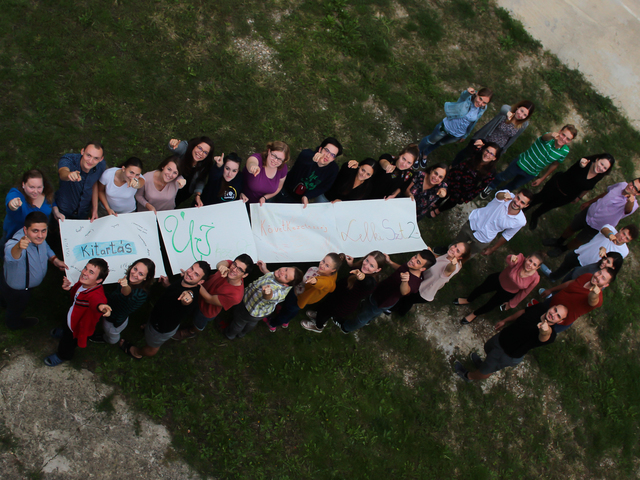 Túrricse (09/15-17/17)


Anna Balajthy shares her thoughts with you about our weekend away! 

"It is always good to finish off the summer and start the new term with God, especially if we can do it with our friends. For this reason it has become a tradition to have a weekend away in Túrricse where all three church communities gather together in the name of God. On a sleepy Friday morning we departed Debrecen for Túrricse and so began the adventure. As we read through the programme for weekend, we could see that many exciting and entertaining activities were waiting for us. This year there were fifteen workshops to choose from as well as free time for biking, table tennis, football, frisbee or quiet time to reflect on what was being discussed in the morning talk.
When we arrived, after unpacking and settling in we got together for a devotion. After lunch some of us went on a bike ride to explore the point where Hungary, Slovakia and Ukraine border each other, while others enjoyed their free time. We then gathered to hear Püski Dániel talk about Reformation of the Church. In the evening we had our first workshop and could choose a wide range of topics, including prayer, the biblical account of Creation, dealing with temptation, handling conflicts, ballet and beauty. Whether you felt like tackling a big life question or enjoying something more light-hearted, there was a workshop for everyone. We then had an opportunity to worship together to finish off the day.  
We began saturday by having breakfast and then singing before hearing the second part of the talk about reformation. We spent the second day similarly to the first, taking part in workshops and using our free time to enjoy the last day of summer and playing a game of ultimate frisbee. In the evening we got to know each other better over board games and a glass of wine.
On Sunday morning had our last workshop and then visited the beautiful local reformed church where László Szarka-Péter was preaching. Our church band helped lead worship during the service. The church was very hospitable and we were very well fed with biscuits and cakes. To conclude the weekend, we formed small groups and discussed what we had heard and how we can put it into practice as we go back to Debrecen.
As we were travelling back from Túrricse the grey clouds and raindrops made me think of how much this weekend has given me. I had opportunities to talk with people I haven't been able to before, and not only have fun and build friendships but most importantly start the new term by putting all the difficulties, challenges and joys into God's hand. I am glad that we had this time and pray that everyone would remember what we learned and through the Holy Spirit would be able to put these things into practice in our daily lives." (Anna Balajthy)
Click on the photo below to see the whole galery! :)
Szólj hozzá