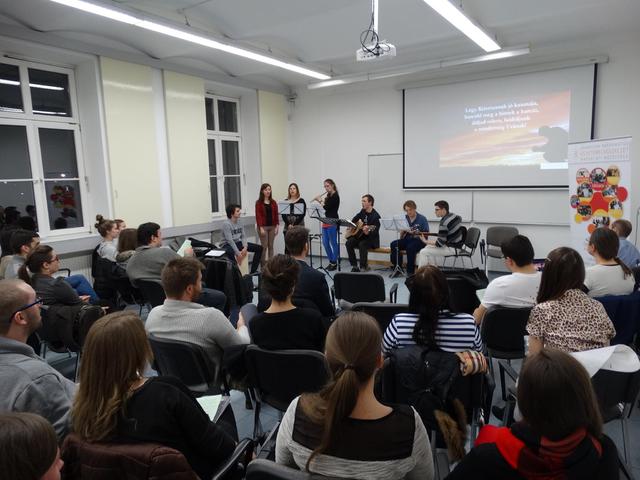 The Kassai Street Community had their first service. It was a heart lifting and encouraging event, with a lot of joy and fun. God blessed us in many ways that night. We asked a few of the participants what it meant to them:
"Our first worship on the Kassai Campus was really unique for me. I was hoping from the first time that I would celebrate it one day. And I did. I lead the praying at the beginning of the worship. Laci, our pastor brought a well-known text, but we could see a new side of it and that's why I thought it was especially wise. I'm waiting for the next time!"
"I would just emphasize these three things about our first service: the personal attention, the kindness and the true, deep openess which we experinced during the evening. Well, I definitely did. Love from the heart,undistinguishing. This is our greatest gift and task: mediating God's love."

"This was the first time ever that I attended a service voluntarily. If it wouldn't have been in a university auditorium, it would have felt strange and unusual for me. As a simple participant, I could imagine myself in a church, but as a musician, like this time, sitting by the lord's table and playing in the service, hardly. For now, I attended the service to learn about religion more than praise God, and this easy going, free spirited occasion was just perfect for me."
"The environment was very pleasant and many people showed up, so we can say it was "successful". The music was great! I have never thought about the story of the Prodigal son this way, the preaching was very edifying and interesting."
Szólj hozzá