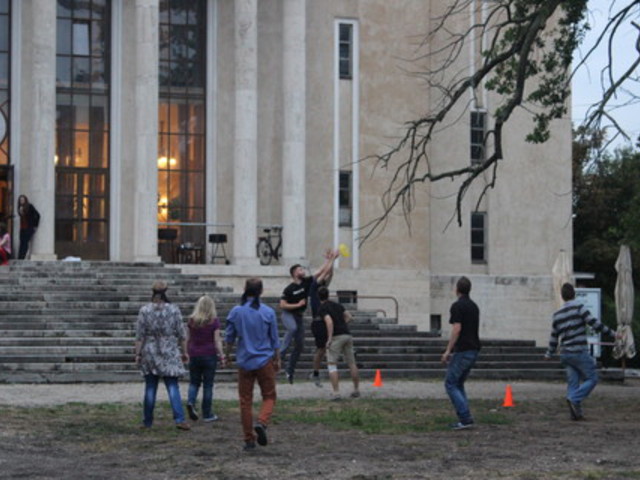 The rain was pouring almost continuously on Tuesday. And yet we still stuck to the idea of holding the event, so I went to buy some meat to grill and other stuff. Anyway, Barbi said: It is a custom that we hold our grill parties on a rainy day, so this time shouldn't be otherwise.
I am glad that we honor our customs every year and even more happy that despite the rain about 60 students attended the event. Some members of the other two comunities came too!
As part of the event, Dani said a few words and invited Jocó to the pulpit. He testified about his pursuit of truth and justice and how he turned to God in the end. I saw tears in some eyes.
After that we talked in groups of three or four about our main question we had in relation to God or a question that continues to preoccupy us; or to talk about the journey we are on with God. Thank you, Dani, for this! In my group we were so lost in sharing our questions and thoughts that we almost missed the food :)). But we could eat enough. I might be wrong, but as far as I remember, this was the first time we asked people to bring with them some tidbits/snacks, fruits and something to drink, if they wanted. At the beginning we were joking with the story of the five loaves and two fish... in the end it is the same that happened to us. If you ask, you receive.
Naturally, Ultimate Frisbee couldn't be left out from the programme opportunities either. Even the rain stopped for the benefit of those willing to play. I guess the game will become a custom here too :).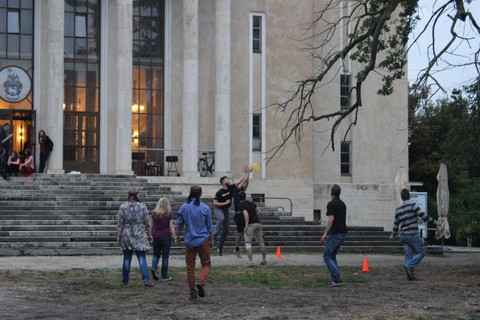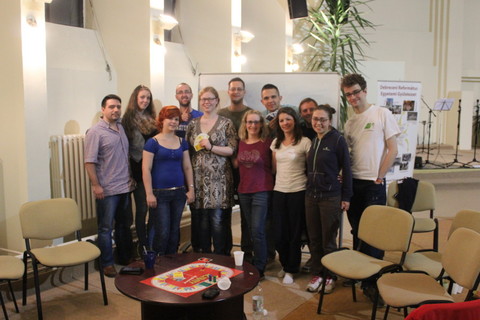 Some had fun playing Activity. I didn't join them, but I am sure they enjoyed it a lot, because a rollicking laughter filled the church from time to time :)).
The End-of-the-year Party was the time and place to say goodbye to those who had just finished their studies. Among them I also had the opportunity to say goodbye. My volunteering year officially ends at the end of July, but this is the last big event we had together - and also the last that I am reporting on. I am grateful for everything that I experienced here with Barbi, Bepe, Dani, Dóri, Gergő, Laci, Zsuzska and all members of the community that I had the opportunity to get to know a little.

Thank you that you let me know that it is important to you to learn of God's work in our communities by reading these posts. And thank you for praying for us all this time! I am leaving now, but the team will be renewed and two new volunteers will come to continue God's work. You shall hear about them in September.
Bözs (bœƷ)
Szólj hozzá